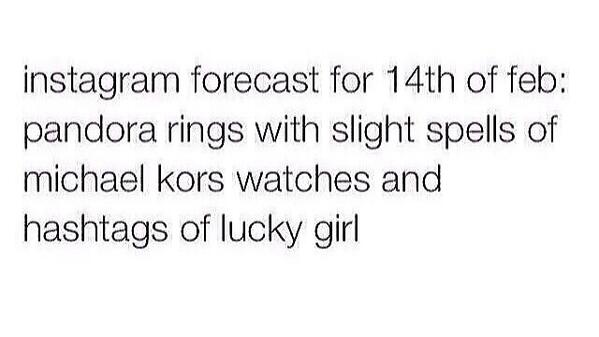 A few words from the perennially single:
So there I was, this time last year, finishing work and idling away the last forty minutes of my day when conversation suddenly turned to Valentine's Day.
Now before last year I had never really worked in an office, and the people I worked with tended to be miles away from the post-college delirium that (let's be frank) still engulfs me today.
Anyway, out of nowhere February 14th was the topic of discussion and being the only single in the office I started to feel that slow, rising panic.
Whatever it is about being unattached (or 'unconsciously uncoupled' as one smug acquaintance recently put it), people, whether intentionally or not, often see it as license to spew the kind of oblique compliments Neill Strauss would dole out at a negging seminar.
And while I imagine last year's excitement was built around Valentine's falling on a Friday, it also meant two whole weeks of my life were spent staring impassively at my keyboard as talk of romance fluttered around my 9-5 cell.
Anyhow, after going through the inventory of backhanded compliments – mulling them over as I slug back wine in a onesie like the unequivocal stereotype I obv am – I came to a few conclusions. First and foremost:
Being single is good for you.
And secondly – perhaps more pertinently – I need to switch to white wine 'cos this red is giving me some serious Hannibal teeth.
Now before anyone jumps to conclusions I'm not ragging on the people who've found their life partners, or even those whose stomachs feels like a whizzing kaleidoscope after a sweet, stray kiss outside Ray's Pizza on a Saturday night. The fact is that I just like being on my own. And unfortunately, many others see it as priority to put me in my place.
I don't have a relationship. I have several:
It's never intentional and not everyone's a victim but so many of my friends have found their human hot water bottle, then promptly given up on all their other relationships.
Sure, our friendship is cultivated through years spent languishing in the same secondary school and learning to type through MSN Messenger (RIP) but all that's been usurped by a special someone whose lips appear to be infused with a magnetic substance.
I'm pretty forgiving of this particular transgression seeing that I've done it a million times before. But it's those friends who become invested in their partners at the expense of all their other friends that irk me. Perhaps I'm a bit of a sad case for not having found 'The One' but in their absence I've found a small army of fun and amazing people to do my bidding (most likely with a taxi driver who insists my head is lolling dangerously to one side just as my wallet decides to stage a disappearing act inside my handbag.)
There's a spark:
There are so many things I'm passionate about: museums, Irish art, magazines, women writers, attempting daring lip colours while drinking pints of wine, travelling, seafood, day-dreaming…
Some of these interests have turned into hobbies and a few of those hobbies have become real passions that miraculously pay my bills. But I'm sceptical whether I would have committed myself so fervently had I not grown tired of The Carrie Diaries and learned that downtime gets dull when there isn't another person to monopolise your every minute.
People can be passionate about plenty, and they can feel passionately about someone, but I really don't believe a person's passion can be another person. Work out what you're good at and be great at it, I say. That sense of achievement will come soon after and a fan club will quickly materialise (disclaimer: the horn-tooting Mariachi band actually takes a while to materialise, I'm sorry).
I get to sleep:
I understand that those in a relationship will see sleeping separately as fostering distance while lying side-by-side creates intimacy, but what if your bed companion snores?
I sleep like an orang-utan and find it almost impossible to lie next to someone who falls asleep before me without getting absurdly angry with them (the TEMERITY!!!!!!!) so resorting to a night alone, with eight hours of sublime, uninterrupted shut-eye seems, eh, great.
I'm spontaneous:
I'm not really. But I have the option to be and there's a lot to be said for that, am I right?