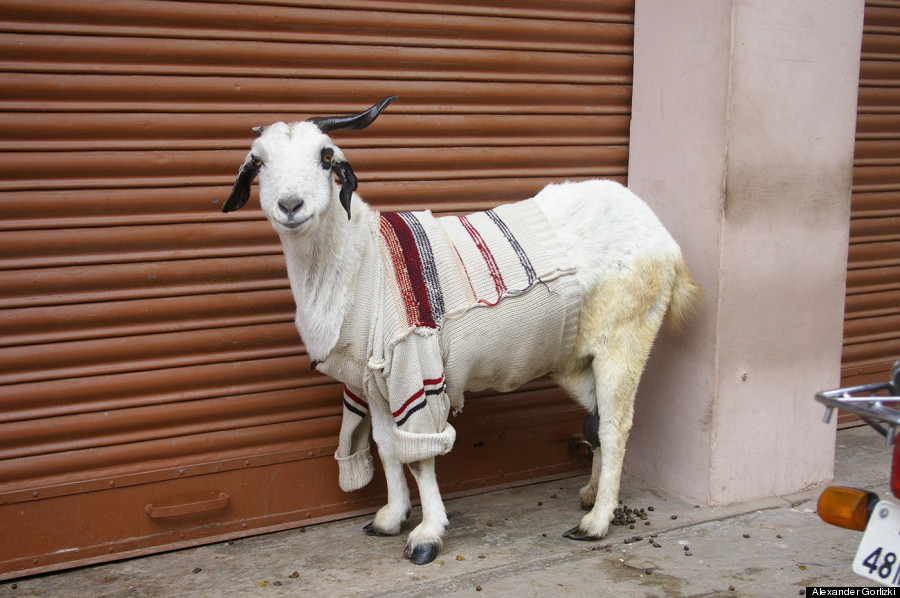 Christmas selfie replete with tatty indoor knit. Baaaahh.
I don't mean to sound like a Christmas agoraphobic – some slipper-clad curmudgeon hovering near the larder cupboard clutching a box of Celebrations (even though this is a pretty apt self-description) – but once work finishes on Christmas Eve, the snooze button goes on and I'm catapulted into my own-made groove on the couch, slippers and sweets in tow.
Last year was the first time in several years I got Stephen's Day off, and this year I'm taking a whole week to traipse around in my dressing gown, refusing to wash my hair – with relish – like some scrubby kid.
But what gets everyone who comes into contact with me around this time is that I don't celebrate Christmas. No really, I don't celebrate Christmas.
I wouldn't say my family, or even my upbringing was unusual, but people are incapable of wrapping their heads around this fact.
I receive litanies of questions about trees (no), turkeys (no), Brussels sprouts (NO!!!!). In fact while I have this platform I'd like to espouse my view that sprout-enthusiasts are clearly victims of a parent-sponsored brainwashing campaign.
But over the years my family and I have fallen into a slight pattern, albeit missing the gaudy, shimmery ornaments and eagle-sized birds that would take me a lifetime to finish.
The food:
I don't eat meat but if I did I'd be inclined to bypass the turkey-and-stuffing routine and tackle Christmas head-on with a stuffed swan filled with piping meat pie (I saw this on The Tudors once and thought it was outrageously swag). I take luxury very seriously and a plucked, decapitated farm bird doesn't spell it for me.
I do however eat fish (and would eat it by the bucket load were I not in my parents' autocratic jurisdiction, or of course if I was a seal). But for the last two years, maybe three, I've managed to coerce my mother into making a quiche.
Now I literally never eat quiche (mainly because I'm one of those people who walks through supermarkets turning over products to inspect the fat count). Those so inclined will know that quiche is a real bad guy in the dietary books, but of course being Christmas and only happening once a year, the quiche goes all out with cream, cheese and crab. And the result is so rich that you can't actually eat a lot of it anyway, so I feel like this is a win-win for decadence and my waistline.
Until the quiche comes out of the oven however, my day is made up of cheese eaten directly off a knife and endless trays of chocolates cos again, swaaaag.
Television:
I feel as a family that this is where we excel at Christmas. I'd go as far as to say we win. All traditionalists know it wouldn't be Christmas without a torrent of misery thundering through the rails of Albert Square and belting down the streets of Weatherfield. Eventually there's some respite through the wiles of Downton Abbey, while the rest of the day is lost to a deluge of Harry Potter films only punctuated by whatever box set made the cut this year – Breaking Bad, Homeland, whatever.
When it comes to the telly, we take it pretty seriously.
Decorations: 
I wouldn't consider myself especially messy, just a little sloppy. I spill a lot of tea and even more wine but I wouldn't be one to throw my clothes in a heap or leave a pile of dishes in the sink. Like everyone else though, I try to avoid cleaning and constantly catch myself dropping unworn socks into the washing basket in a lazy bid to avoid finding their pair or simply putting them away. This cycle is endless, and my socks do endless spin cycles in the washing machine as a result.
Consequently the thought of creating all that work for myself – heaving a dusty box from a forgotten cupboard, placing ornaments around the house to gather more dust, then having to pack everything away four weeks later – sounds like a cruel and futile exercise devised in a Dickensian Work House.
Clothes:
No niceties for me. I'm staying in my pyjamas all day, all week even. 'Nuff said.